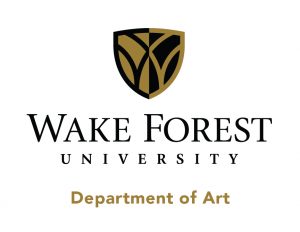 Wake Forest University
Visiting Assistant Professor, Painting
Job Description Summary
The Department of Art at Wake Forest University invites applications for a non-tenure-track position at the rank of visiting assistant professor for a one-year appointment to begin July 1, 2021. An MFA in art is required with teaching experience beyond the graduate T. A. level. We seek a teacher-scholar who has the background to teach all levels of painting in a Studio Art B.A. program. The successful candidate will be committed to excellence in both teaching and creative work, and will teach a combination of introductory, intermediate and upper-level painting courses. As a department that embraces the Liberal Arts, we teach many introductory students with little or no experience making art.
Job Application:
To apply for the position, submit your application in ONE PDF at https://hr.wfu.edu/careers/
The application requires a cover letter that includes your artist statement and teaching interests, a curriculum vitae, a sample of your work and examples of student work with your application profile. In addition, please arrange to have three letters of reference sent to jrpickel@nullwfu.edu. Review of applications will begin April 1, 2021.
Wake Forest University is a private collegiate university in Winston-Salem, North Carolina with 5,200 undergraduates in the College of Arts and Sciences. The Art Department includes undergraduate programs in both art history and studio art, with 13 full-time faculty. View our web site at http://www.wfu.edu/art/. The Wake Forest Teacher-Scholar ideal values excellent teaching and student engagement while advancing the frontiers of knowledge and creativity. To learn more about the University, visit http://www.wfu.edu. Wake Forest seeks to recruit and retain a diverse faculty, and to offer students richly varied disciplines, perspectives, and ways of knowing and learning. Wake Forest University is an AA/EO employer.

Additional Job Description
Time Type Requirement
Full time

In order to provide a safe and productive learning and living community, Wake Forest University conducts background investigations for all final faculty candidates being considered for employment.

Wake Forest seeks to recruit and retain a diverse workforce while promoting an inclusive work environment committed to excellence in the spirit of Pro Humanitate. In adherence with applicable laws and as provided by University policies, the University prohibits discrimination in its employment practices on the basis of race, color, religion, national origin, sex, age, sexual orientation, gender identity and expression, genetic information, disability and veteran status and encourages qualified candidates across all group demographics to apply.
Advertising budget:
$465 College Art Association (main professional organization for art), 45 days
$434-$634 Chronicle of Higher Education, 45 days; $634 is for a "Diversity Boost: Your job
posting will appear programmatically on numerous diversity targeted job sites"
$300 H-NET, 90 days
$349-595 Insider Higher Ed, 45 days; $595 is the "Diversity Boost"
$1,548 – $1,994, depending on opting for the "Diversity Boost"
Recent Posts
February 18, 2021

November 12, 2020

September 18, 2020